Fermanagh Farm's second Fall Market on Sunday, October 1, 10 am to 4 pm, will feature an amazing lineup of artisans, crafters, delicious food vendors, wagon rides and a Kids' zone with a bouncy castle, all hosted in our rustic barn, built in 1893, and around the farm grounds!
Get ready for Thanksgiving with delicious treats and one-of-a-kind gifts.
Pick your own pumpkin for $10! A portion of the profit from each pumpkin will be donated to the food bank. You can reserve a pumpkin on Eventbrite.
DJ Mastermix will keep the party going with music throughout the market.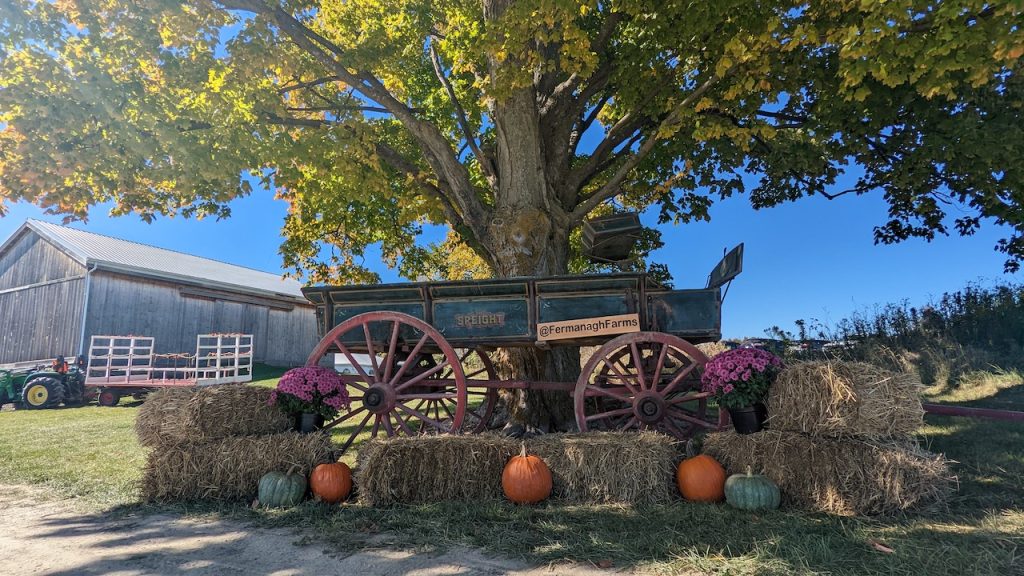 Entry is FREE, but we will be collecting non-perishable food donations/monetary donations for the local Bradford Helping Hand Food Bank.
At our Spring Market, we raised almost $650 and collected 1,100 pounds of food for the food bank We're hoping to beat that record this time around!
The event is pet-friendly, but please clean up after your pet.
Check out a recap of our Spring Market Directions to the farm
We are located at 4023 3rd line of Bradford, north of Highway 9 & west of Highway 400. (Please use Google Maps link, Waze will take you to wrong place.)
Click here for the Google Map.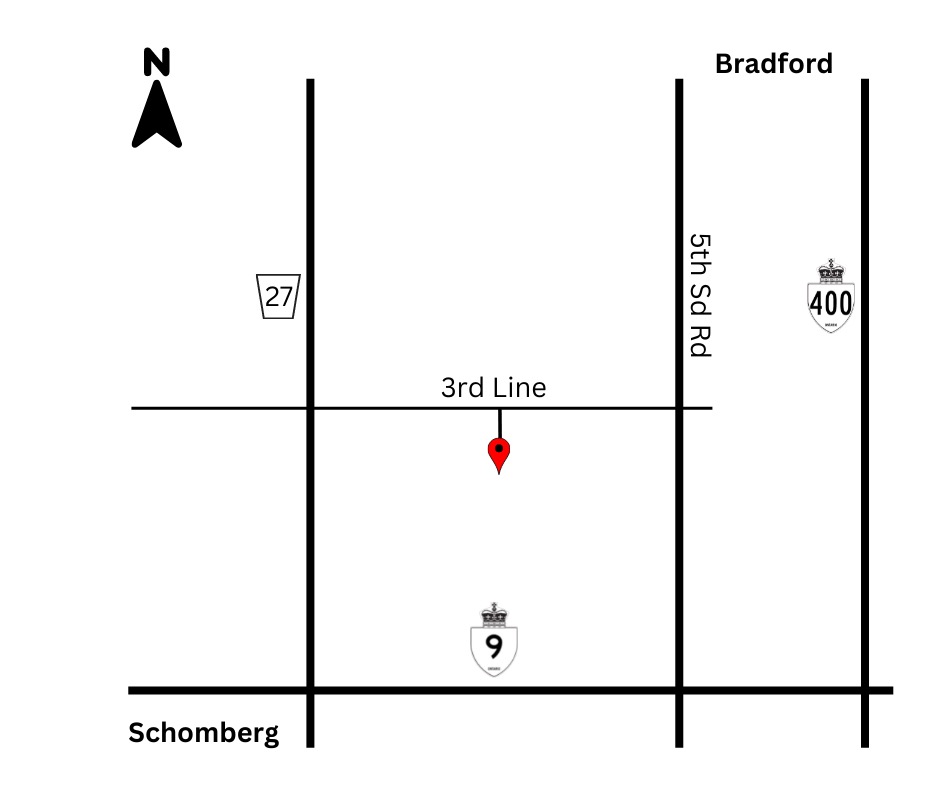 Gold
Gervais Party and Tent Rentals: Party and tent rental company servicing Toronto,
the GTA and Southern Ontario since 1949. gervaisrentals.com
Want to be a sponsor?
Contact us to sponsor the event
Food and Treats
Angie's Sweet Little Kitchen: Thanksgiving-themed desserts plus spanakopites; tiropites paired with Greek salad lunches. Instagram: angiessweetlittlekitchen
Antonia's Kitchen: Portuguese Piri-Piri sauce, pressure canned soups and chilis, hot honey, pepper jellies, olives. antoniaskitchen.ca

Art's Pasta: Artisan small-batch pasta artspastaco.com
Culinary Creations by Christina: Peameal sandwiches, tacos and more. Find her on Instagram
Erica's Kitchen: Stuffed cookies (Chocolate-chip cookie stuffed with Oreo, S'mores Stuffed Cookie), Pumpkin Loafs, Churros ericaskitchenlunch.wixsite.com/ericaskitchen
Fatima's Samosas: Selection of samosas, such as beef, chicken and more. fatimassamosas.com
From Lex's Pantry: assorted all-in spice mixes for butter chicken, BBQ pulled pork, etc. fromlexspantry.com
Glorita's Coffee: Organic coffee, pupusas, tamales and tacos
Holland Marsh Food Kitchen: Hotdogs, burgers, soups and more.
JC Kettle Corn: Delicious craft-made kettle corn jckettlecorn.ca
Kinghaven Farms: Local, premium local honey and bee's wax products kinghavenfarms.com
Krista's Kakes, Gmas butter tarts, Cookies by J.C.: Butter tarts, Pumpkin tarts, Lemon tarts Sugar cookies, Gourmet cookies, Freeze dried candy, Cake pops, Sweet bread, Cupcakes, Mini dessert grazing boxes and more
Knits & Sweets: Sugar cookies, thumbprint cookies, citrus cookies, coconut macaroons, Macedonian vanilla cookies, Macedonian caramel tea biscuits wafers, chocolate chip cookies, cranberry orange cookies, banana oatmeal raisin cookies and possibly meringue kisses and/or ginger man cookies
La Nocciolina Gourmet Nuts: Candied pecans, pumpkin spice mixed nuts, bourbon-infused cranberry-orange pecans, Tex-mex nuts, trail mixes, salad toppers, popcorn and nut mixes. Instagram: @lanocciolinagourmet
Little Sweet Pretties: Freshly spun cotton candy Instagram: @littlesweetpretties
Need the Heat: Hot sauces and candied jalapenos needtheheat.com
Sharm's Sugar Fix: Decorated sugar cookies, large gourmet cookies, stuffed cookies, mini banana bread loaves and mini cake loaves – with Indian Fusion flavours (rashmallai cake, chai chocolate chip cookies, etc.) with some gluten-free options. Instagram: sharms_sugar_fix
T's Freeze Dried Treats: Freeze-dried candy, fruit and ice cream. Instagram: tsfreezedriedtreats
Tun Up Hot Sauce: All natural, tropical-flavoured hot sauce. tunuphotsauce.com
Crafts, Garden and Pets
The Gift Library: Eco-friendly cement trinket trays, Laser cut/engraved wood and acrylic ornaments/accessories, Cheese Boards, Coasters, Assorted tumblers, mugs. Instagram: @Giftlibrary.ca
JR Gardens: Family-run cut flower/garlic farm. They offer fresh, farm-grown florals and garlic grown naturally. Instagram: jr_gardens
lfgnomes: Seasonal, custom gnomes and other gnome-related items Instagram: @lfgnomes
Midvalley Gardens: Flower arrangements and potted plants midvalleygardens.com
Thorpe Toys: Beautiful, handmade children's wooden toys. ThorpeToys.com
TMCreations: Hand-sewn pillows, pouches, pumpkins and home decor items Website:

tmcreations6.ca

Facebook: tmcreations6
Pgwoodcrafts: Numerous handmade and turned items including writing pens, stylus pens, seam rippers, letter openers, coffee scoops, ice cream scoops, keychain fobs etc. Instagram: @pgwoodcrafts
Decor
Jewelry, Clothing and Accessories
Athena's Diaper Cakes & Hair Pretties: Diaper cakes, handmade hair accessories and crochet hats for children athenasdiapercakes.com
DN Gifts: Candles, trinket trays, vases
Finikounda Imports: Mediterranean gifts, and accessories for men and women, and home decor items Instagram: finikounda_imports
Gosdebbie: Afrocentric bracelets, waist beads, anklets, etc. gosdebbie.ca
Knits & Sweets: Knitted and crochet toys, market bags, tea towel holders, scarfs, hats
Loganberry Canada: Baby and toddler clothing and accessories, handmade sewn clothing, knit & crochet accessories loganberrycanada.ca
Mary K Jewels: Evil eye jewelry, wire crochet, etc.
Muskoka Mades & Made by Mel: Children's sweaters, knit slippers, hats & mitts, scrunchies, cold cups, plushies, hand towels, dish clothes, hot pads, crochet baby blankets, baby layette, tooth fairy pillow @muskoka_mades @made_by_mel22
Northern Comfort Creations: Crafts and knitwear
Sparkles Products: Jewelry, ornaments, trinkets, T-shirts, etc
Body care, Teas and Wellness
Ascend: Natural soaps, lip balms, therapeutic essential oil blends, essential oil linen and bug sprays, lip scrubs Instagram: ascend_allnatural
Daphne Herbals: Herbal Teas, balms, baby products, handmade soaps daphneherbals.com
Herd & Hive: Tallow Goods (Candles, Skincare, Firestarters and Soap made from local grass-fed rendered beef fat) herdandhive.ca
Gin Glow Enterprise: Organic essential oils and handcrafted bath and body products ginglowenterprise.square.site
JoeBro: All-natural men's grooming products, soaps, beard care, shampoo, etc. joebro.ca
Rainfall Soapery: Artisan soaps, sugar scrubs and plant pots Instagram: rainfallsoapery
Santos Hair Studio: Hair and scalp products that are organic, toxic-free and plant-based. Hair accessories and tools.
santoshairstudio.ca
Uniquely Pure: Handcrafted aromatherapy and wellness products uniquelypure.com