Corporate Galas, Business Meetings, Presentations, Team Building & retreats, and so much more!
So much space. So many options!
your event reservation includes:
Indoor or outdoor spaces for your meeting / event
Clean Restroom Facilities
Event coordinator – to help connect your organizer/planner with vendors & other resources prior to your event
Sole access to the property for the day. No other events will be booked at the farm.
Access to The Barn and most outdoor areas for your event.
In-house sound system
Does not include chairs and tables. Both are available through our Preferred Vendors List
There are no cooking facilities on the property. Caterer must be able to bring food to event pre-cooked or cooked on-site via bbq. Our preferred caterers provide this. Kitchen space is available for buffet set up and food plating.
If alcohol will be served at your event, It is the company's (event organizer) responsibility to acquire PAL coverage (Party Alcohol Liability) and a liquor license.
Pricing
Use our Event Price Estimator to get your estimate or contact us, tell us a bit about your event, and we'll go from there.
Event Coordinator / Planner
Our in-house event coordinator can help you plan some basics of your day including arranging a tour of the facilities, help with connections to vendors and basic logistical matters related to having your event on our property.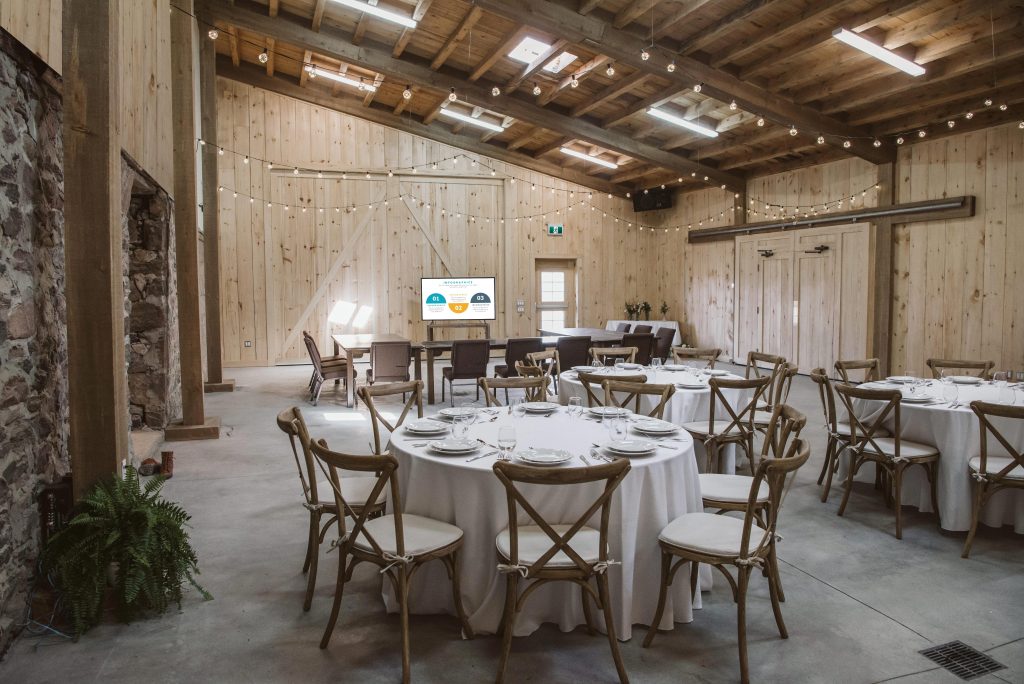 2000 sq ft for your event in whatever configuration needed.

The Barn – A unique venue for your event.
Out of the City but so close
Located about 45 minutes North of Toronto, 30 minutes South of Barrie
Very easily accessed, 5 min. off the 400
Vaughan Metropolitan Centre Subway Stop 20-25 min away (Shuttle Bus arrangements can be made)
GO Bus stop 10 min. away
Almost in the middle of nowhere
We are located high on a hill with great panoramic views.
Isolated from almost everyone but your guests.
Beautiful brilliant gardens in the summer, deep colours in the fall and gorgeous mounds of snow in the winter.
Year-Round Access and Washroom Facilities
We have in-floor heating and heated indoor restroom facilities. You can be warm and comfortable regardless of the season.